This year the Ottawa Chapter will continue to support two habitat restoration projects that were started in the fall of 2014.
The 2015 Capital Challunge winner was Corey Easingwood with a 48.5" beauty.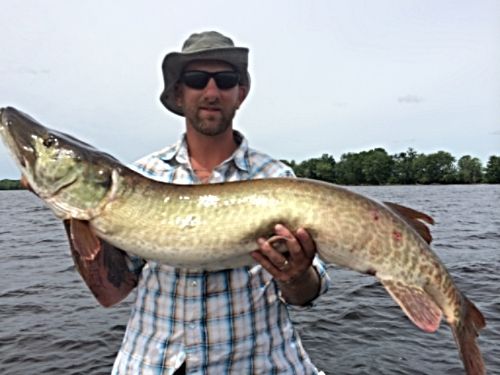 2014 Outing winner Corey Easingwood - 48.5"
Swan Moving Trophy Presentaton
Meetings
When you attend our chapter meetings you will get a great opportunity to meet and talk with all kinds of people involved in Muskie fishing. Experienced anglers, scientists doing research on different aspects of Muskie biology, lure manufacturers and electronics experts to name a few.
Every meeting is different, but one thing you can be sure of is you will leave the meeting with a better understanding of what it takes to find, catch and safely release the Muskie you have been chasing. Here are a few quotes from new members:
"Just awesome! I met a great bunch of guys at the chapter meeting, all willing to share their knowledge. A real learning experience - start to finish."
"This group is dedicated to proper management of the Muskie fishery. They have helped me catch more fish and shown me the right tools and techniques for handling and releasing this great fish."
Come out and join us. MCI members and friends are welcome to share the experience. Chapter meetings are held the 3rd Tuesday of every month at the Orleans Legion starting at 7:30. Click the map link below for location details.